Customer Spotlight: Fortress Self Storage – Brighton, CO
Self-Storage Consulting Group based out of Mesa, Arizona saw the opportunity for self-storage in a growing area centered on new development in Brighton, Colorado. With a Top Golf, Home Depot and Costco all within minutes of their facility, they knew being on the main road would give Fortress Self Storage the attention it deserved in the growing market. Fortress Self Storage was determined to find a way to set themselves apart in the sea of new development, and they did just that by offering Smart Self-Storage units to their tenants with Nokē Smart Entry by Janus International.

Why did Fortress Self Storage Choose Nokē Smart Entry by Janus International?
After visiting the Nokē office in Lehi, Utah, Kelly Gallagher, Owner of Fortress Self Storage, knew it was exactly what their facility needed to stand out from the competition and win the business, and hearts, of tenants all around them. That's when they decided to install 696 smart units at their new facility.
"I was able to visit the actual office in Utah and was really impressed with the whole system. I had been watching it for months and I saw the progress of some of the other users from around the country, and frankly around the world, who had been really pleased. And, as we looked at all of our competitors in the area, nobody had anything like it. We knew we needed Nokē Smart Entry to stand out in the self-storage industry."
– Kelly Gallagher, Owner of Fortress Self Storage
With Nokē Smart Entry, Fortress Self Storage is able to maintain a strong business while allowing a contactless environment for both tenants and employees. The rental process is fully automated, meaning tenants can complete the rental process online, receive their digital key and immediately move into their storage unit for a contactless experience if they choose. With the digital key, tenants are able to access the facility's gate, man doors and elevators as well as their individual units all from an app on their smart phone.
Improving Customer Experience with SMART Self-Storage
In the self-storage industry, it's pretty common to have a tenant lose their keys and have to pay someone to come out and cut their lock. Sometimes, they even lose their new keys and have to repeat the frustrating process. It's also pretty common for tenants to forget their gate code. If a manager's out on the property, whether completing a site check or showing a new tenant to their unit, it can cause some frustration for that tenant who's waiting on help to enter the facility. Luckily, there's a simple solution with smart self-storage!
In just 6 short months after opening in March of 2020, Fortress Self Storage found their tenants to be thankful and happy for their smart self-storage units. There was no more losing keys or forgetting codes – Nokē had completely eliminated these common issues.
By eliminating common issues such as lost keys or forgotten gate codes, Nokē enhances the experience for both the tenant and the site manager.
The operations team at Fortress Self Storage quickly realized that Nokē was a huge help and gave them the freedom to focus on other tasks such as cleaning units, maintaining the facility and spending time on marketing efforts.
Nokē Eliminates Time-Consuming Issues for Site Managers:
Lock Checks | Lock checks are done virtually and can be seen on the portal, eliminating the need to physically check each unit. Now, walk throughs can be done from a vehicle and completed in just a few minutes.
Cutting Locks | With the use of smart locks, cutting locks is completely eliminated. Managers can unlock units virtually without having to worry about injury, liability or convenience.
Overlocking | Smart locks automate the overlock process if a tenant hasn't paid their rent on time.
Accessibility | If a tenant is having trouble accessing the gate, the site manager can open the gate virtually and is no longer stuck to an office 24/7.
Want to See the Latest Features in Smart Entry Access Today?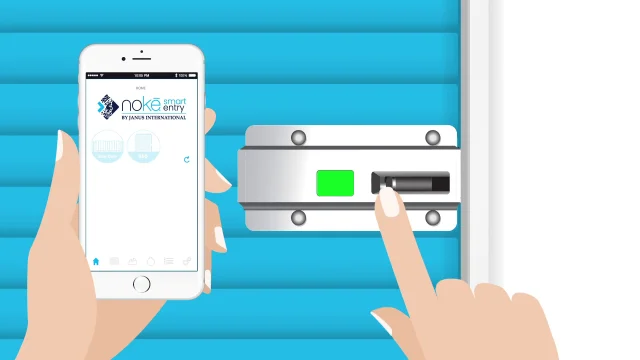 Digital Key Sharing has also been a huge advantage for Fortress Self Storage. Digital key sharing has allowed tenants to go into their mobile app and temporarily grant access to a family member, friend or anyone who needs to grab an item from the storage unit. The digital key can be revoked at any time, and an activity log keeps track of exactly when the unit was accessed during the key sharing time.
With smart technology built inside of every unit controller and electronic lock, as well as motion sensors inside every door, Nokē is a security solution that will change the way you protect your investment while also making the lives of your customers more secure and convenient. By offering these smart self-storage units, facilities are even able to charge higher premiums. From technology fees to increased rental rates, tenants are willing to pay for higher security, convenience and quality.
In just 6 short months after opening, Fortress Self Storage made quite the impact in Brighton, Colorado with their smart self storage facility, and have no intentions of slowing down.