Got Taxes?
Traditional new buildings can take months, or even years, to meet permitting requirements. Naturally, this process can push back your intended opening date, which in turn pushes back the time frame you have to break-even. Most relocatable storage units can be classified as equipment as opposed to a building structure, which potentially helps you bypass these lengthy permitting and zoning processes. Under the new tax code revision, these relocatable storage solutions are generally eligible for 100% deduction after just one year!
Since the units are classified as equipment, they depreciate over the course of 7 years in lieu of the usual 39 years, and they can be leased through banks instead of having to take out a traditional construction loan. The total process requires very little out of pocket, and you can instantly generate additional revenue once tenants move in. MASS units can be completely paid off in a couple of years based on revenue alone. Then you've got aesthetically-pleasing buildings that are built with the same care and material as regular units — in fact, sometimes you can't even tell them apart from traditional storage buildings! Not to mention the bottom line perk: operators can charge tenants the same monthly rates for MASS units as they do for their regular interior units. You can rest easy knowing they're going to last as long as a traditional self-storage building!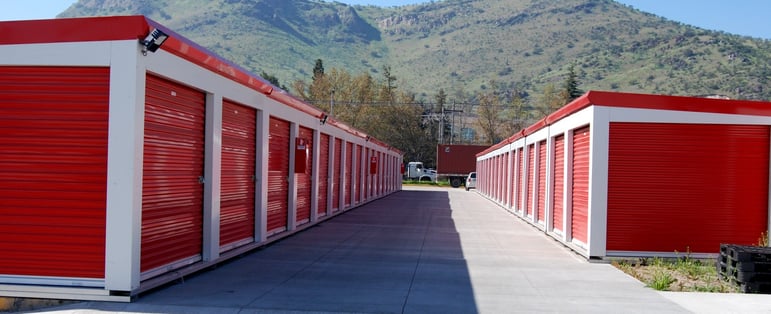 Paper or Plastic?
First things first, when evaluating doors, hallways, and relocatable storage options, it's important to consider what materials to use. Traditional storage structures have relied heavily on steel, and for good reason.  As of late, PVC manufactures have been trying to break into the self-storage space with increasing frequency. Made of plastic, it's being touted on the market as the latest and greatest purchase for facility owners, primarily because of the price point.
The durability of steel roll-up doors, hallways, and exterior material is second to none, especially when compared to PVC. PVC is a frequently used material in residential non-structural siding. While PVC may seem like a cheap alternative to a steel structure, consider the lifetime value. PVC is far less sturdy than a steel structure and can easily be damaged by inclement weather and common wear and tear. The material looks flimsy and the sound it makes when it moves is reminiscent of a cheap plastic toy, because it's made of the same material as cheap plastic toys. There's no better way to communicate to your tenants that you skimp on quality than presenting them with plastic for their self-storage unit!
You can also consider the overall look of your facility when comparing PVC to steel relocatable structures. Will a plastic container really blend in with your existing buildings? How will that factor affect the image you're trying to project to both current and potential customers? The fact of the matter is, you're going to have a difficult time trying to charge the same rental rates for a plastic unit in comparison to a steel structure.
Compared to the 26-gauge corrugated door curtain on most roll-up doors in self-storage that are manufactured from full hard galvanized grade 80 steel, PVC isn't nearly as durable. This high grade of premium steel translates to greater door strength and minimized curtain damage, and an exterior made of steel has a better chance at lasting the test of time instead of a PVC option. By providing tenants a higher quality product, they feel their possessions are more secure and therefore will pay higher rental rates to protect their belongings.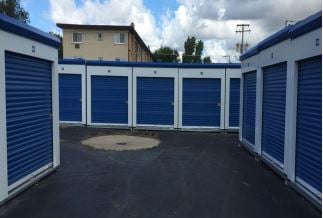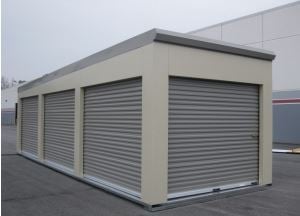 What Customers Are Saying About Steel MASS Units From Janus
"We added $1M in MASS buildings from Janus to three of our properties in San Antonio this year. We will receive considerable tax incentives in 2019 as a result. Going beyond the tax advantages, we were able to add 25,000 rentable sq ft. to these properties with a very durable and great looking product, and we didn't have to pour slabs or pull permits."
– Travis Morrow, SPMI: President of the Self Storage Division
We added MASS buildings at our New Caney, TX facility. We love this product for four main reasons. The first, is most of the time you don't need a permit to put them onsite. Next, they're considered real property and not real estate so they're taxed less. You can also put them in places where you might not be able to put a traditional building to add rentable footage. The fourth reason is, Janus does a great job building and installing these right on site."
– John Manes, Pinnacle Storage Properties