New Virtual Self Storage Facility Sees Rapid Lease-up with Smart Locks
Customer Spotlight: StoreEase – Fultondale, AL
Ross Stryker, Co-Owner/Investor of StoreEase Fultondale, initially got started in real estate investing to replace his transactional income (the exchanging of hours for dollars) with passive income through cash flowing properties, regardless of what class they were. While he made a good living as an Orthodontist, he realized he was not on the path to a comfortable retirement and decided financial freedom doesn't have just one path. Only two short years into his investment endeavors, he was able to exceed his income from his private practice.
Ross is the general partner that represents multiple investors from various states who have essentially trusted him to take their hard earned money, get it out of the "Wall Street Casinos", as he likes to call it, and on the Main Street where it will help real people with something tangible. While self-storage was new to him and his team, the idea of third party management was not. Having owned everything from single and multi-family homes and office spaces, to a hotel in Belize and a coffee farm in Panama (all third party managed), a virtually managed self-storage model with smart entry and smart lock technology made all the sense in the world.

Navigating the Construction Challenges with Rapid Results
In October 2020, Ross and his team opened StoreEase to meet the demand for self-storage in the community. This beautiful, virtually managed facility is located in Fultondale, AL and definitely hard to miss! For the first phase of construction, StoreEase Fultondale completed two buildings with a total of 60,000 square feet and 441 units. The first building is one level climate control, while the second building has two levels offering both drive-up and climate-controlled storage units.
Like many new self-storage developments, StoreEase Fultondale faced their share of challenges during construction. For them, there were two major challenges they had to navigate and overcome when building the first phase of the new smart storage facility. At the end of 2019 and into the first part of 2020, Birmingham had historical rains. Not just your typical "oh, we've had kind of a rainy year," more like two or three months of probably their highest rain totals for those months in history.
Then March rolled around and the COVID-19 pandemic hit, leading to many restriction in various states. This caused issues moving teams across state lines such as the structural engineering firm and where their crews were located and figuring out how to get them from there to Alabama. At the time, states were scrambling to figure it out. Therefore, they ended up having a structural issue arise on building two, which delayed their projected September 2020 opening by more than a month.
Ross commented on the delay: "To open late October, only seven weeks passed our projection a year and a half before having no idea any of these things were going to happen, is a true testament to all the teams involved who answered the bell when they were called to come out and fight and they just figured out a way to get it done."

The two buildings in phase one were originally intended to open together but only the first building (30,000 sq. ft.) got C/O and was able to open in October, due to the construction delays on building two.
The lease up of the first building was so rapid that they had a wait list on certain unit types before the second building even got it's C/O. In two short months of the first building being open for business, they already had 84 tenants (71% occupancy for the first building). Now take into consideration that this was also during November and December, which is arguably the slowest time of year.
As of February 2021, their current occupancy for both buildings is at 53% with 181 rentals in just three months of opening the facility. At the current pace, the 60,000 sq. ft. Phase 1 of this facility will be fully leased by end of April and they are already planning Phase 2 construction at the end of 2021, adding a third building and taking this facility to roughly 104,000 sq. ft.
"The reason we are doing so great is because of the technology and the phenomenal virtual managers that StoreEase has working for them," Ross emphasized.
To Manage or Virtually Manage – That Is the Question
When venturing into self-storage, Ross knew from his previous real estate investment experience that he wanted the facility to be third party managed. He began exploring third party management companies to determine who would be the best fit and what made the most sense from an operations standpoint.
What he found with other companies was that in order for them to manage their Fultondale facility, looking at the 700-unit range upon completion of Phase 2, they would require all three buildings to be built at once. This would result in higher costs of operation, higher carrying costs, higher debt service and it was going to necessitate having two full time managers on site. Factoring in health care and retirement benefits, 401K, district managers and regional managers, and everything in between, Ross and his team estimated they would be spending around $130-140k a year for personnel.
After meeting with StoreEase and learning more about their virtually managed model that uses the Nokē Smart Entry and Smart Lock technology by Janus, he realized their managers are able to manage multiple facilities virtually, essentially allowing him to share that cost and provide an even easier and more convenient customer experience.
Since their managers are virtual and able to manage multiple facilities at once, they are able to pay higher salaries and obtain people who are better qualified to sell and have a more in-depth knowledge of the technology, how it works, and able to provide overall better customer service.
Ross reflects on his experience with property managers:
"My experience in real estate investing has been that there's no position more important than the property manager, period. Frankly, I've had a lot of experience with property managers and have seen far more bad ones than good. When you find a good one, it's almost like you've found a Unicorn."
Needless to say, the combination of the advanced technology, operational savings, and enhanced customer service led them to make a pretty quick decision to go with the hi-tech, virtually managed smart storage model over the traditional models he previously explored.
Say Hello to Smart Technology and a True Contactless Experience
Although "unmanned" self-storage has been around for years, it's not to be confused with virtually managed self-storage, which is taking the industry by storm. Walking inside of this state-of-the-art facility, you are immediately greeted with a rental center in the lobby where tenants can complete the entire rental process on their own through several different methods including a kiosk, their smartphone, or on the facility's website.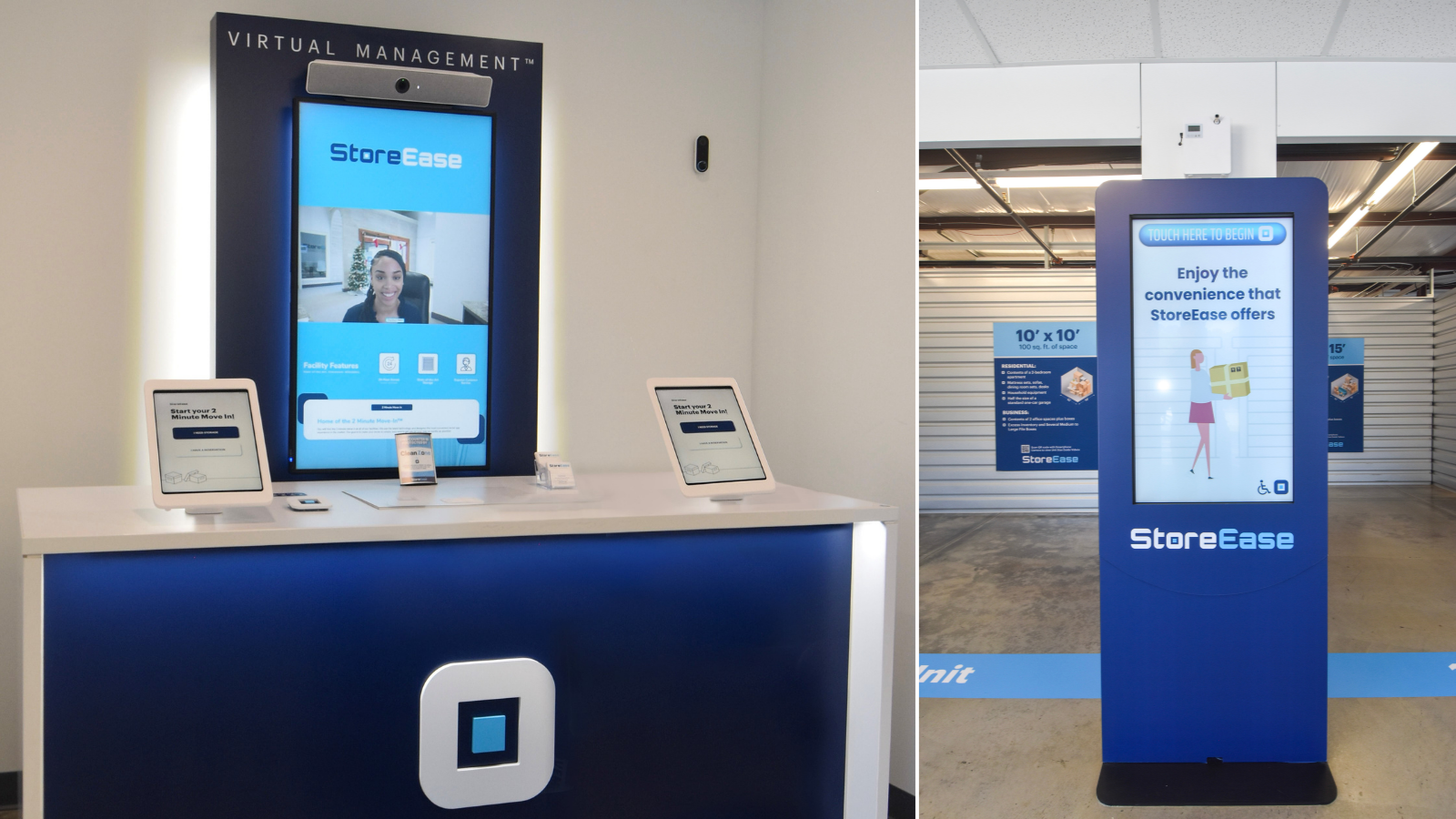 In addition to this, a virtual manager appears on the screen using motion-activated video technology paired with a speaker. The manager can then speak with the tenant and walk them through the entire rental process and how to get started. So while there's no manager physically onsite, they are still there virtually and ready to assist customers via live video chat.
Paired with the smart entry and smart lock technology that Janus provides, StoreEase Fultondale is able offer true contactless rentals and automated move-ins that takes the traditional self-storage customer experience to a whole new level. After completing the rental, new tenants receive an auto generated text to download the facility's custom branded smart phone app, enter their phone number, and instantly gain access to entry points and their individual unit to start moving in.
Tenants can digitally share a key with their friends, family, or movers and revoke that access at any time. In addition, they can track any activity going on inside of their unit, pay their monthly bill, and more. They can forget the hassles of remembering gate codes and keys because they can simply access everything they need via the app on their smartphone.
Ross asserted, "Without a doubt, the customer feedback has been nothing but great. They love the cleanliness, safe and friendly environment, customer service and technology, the smart entry app, contactless and automated rentals, and the overall customer experience that you don't find at other facilities."
[WATCH THIS VIDEO TO SEE DIGITAL KEY SHARING IN ACTION]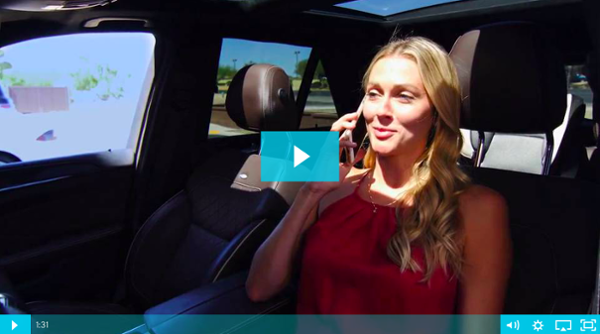 Operational Efficiency + Additional Revenue = Successful Business Model
Virtual management and automated rentals have become a true game-changer for StoreEase. With this technology, they are able to cut their operational expenses in addition to providing top of the line security for tenants. With the Nokē Smart Entry system, they are also able to charge higher rental rates than their competitors and still proceed to increase their occupancy rate.
StoreEase Fultondale is able to charge a smart tech fee that is currently $3.99 with 100% buy-in from tenants. Think about that for a minute. At their current unit total of 441 in Phase 1, that equals and additional $1,760 a month. Once both phases are completed, taking them to around 700 units, you're looking at $2,800 in additional revenue. They've received such great feedback from tenants that they soon plan to bump the smart tech fee up to $4.99… you do the math. In addition to the smart tech fee, 95% of their tenants have taken the insurance when renting a unit.
"With the technology and smart units we are able to charge a smart tech fee each month and have had 100% up-take for all tenants at the point of sale," Ross stated.
Having the Nokē Smart Entry system improves operational efficiency and comes with a wealth of data and added security. The traditional time sucking tasks of manually overlocking and lock checks are automated, so even without a manager physically on-site, this doesn't go undone. When a tenant misses a payment – easy peasy, they are automatically locked out of the facility and their unit until a payment is made. Once they're up to date on their payments, access is automatically restored. Manger needs to check to make sure all units are locked? No problem, they can quickly check this in the portal.

Every smart unit is also equipped with a thermal motion sensor inside the unit. So, if a fire starts inside of a unit, if someone attempts to break in, or even if a tenant attempts to live inside their unit, a notification will be sent to the manager alerting them of the issue.
The Bottom Line
StoreEase Fultondale continues to fill their facility with satisfied tenants, and looking forward to adding Phase 2 in the very near future. Through the technology included at their site, they're able to offer their tenants more than just a place to store, but an unforgettable customer experience that will continue to grow.
From offering contactless rentals, virtual management, and smarter operations, this is why StoreEase Fultondale stands out from their competition. Though we didn't see COVID-19 coming nor could we predict how long it was going to stick around, the decision to implement this technology at their new facility put them in front of the pandemic, to say the least.